Soldiers and Diplomacy in Burma
Understanding the Foreign Relations of the Burmese Praetorian State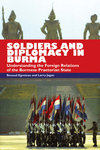 Renaud Egreteau and Larry Jagan
NUS Press, Singapore
juillet 2013, XVI-542 p.
ISBN : 978-9971-69-673-3

English text
Soldiers and Diplomacy addresses the key question of the ongoing role of the military in Burma's foreign policy. The co-authors, a political scientist and a former top Asia editor for the BBC, provide a fresh perspective on Burma's foreign and security policies, which have shifted between pro-active diplomacies of neutralism and non-alignment, and autarkical policies of isolation and xenophobic nationalism. The authors argue that key elements of continuity underlie Burma's striking postcolonial policy changes and contrasting diplomatic practices. Among the defining factors here are the formidable dominance of the Burmese armed forces over state structure, the enduring domestic political conundrum and the peculiar geography of a country located at the crossroads of India, China and Southeast Asia. The authors argue that the Burmese military still has the tools needed to retain their praetorian influence over the country's foreign policy in the post-junta context of the 2010s. For international policymakers, potential foreign investors and Burma's immediate neighbors, this will have strong implications in terms of the country's foreign policy approach.
---

Content
Maps
Acknowledgements
Préfacé
Foreword "Burma vs. Myanmar" ?
Introduction – Locating Burma in the 21st Century
Chapter 1 - Burma, A Praetorian State
Chapter 2 - The Securitization of Burma's Postcolonial Foreign Policy (1948-1988)
Chapter 3 - Post-1988 Ostracisms : Isolation Reworked
Chapter 4 - China, India, and Burma's Geopolitics of Centrality
Chapter 5 - Reimagining Burma's Security and Foreign Relations for the 21 st Century
Conclusion – Burma toward Normalization ? A Post-Junta Interprétation for the 2010s
Glossary
Bibliography
Index
---
Renaud Egreteau is Research Assistant Professor with the Hong Kong Institute for the Humanities & Social Sciences at the University of Hong Kong, and an IRASEC Reaseach Associate.
Larry Jagan is a journalist and political analyst based in Bangkok. He is a Burma specialist and former news and current affairs editor for Asia at the BBC World Service.
"There has long been a need for an objective and well researched study of the role played by Burma's armed forces in the country's external relations. By comprehensively examining the issue, this outstanding book, by two experienced analysts of regional affairs, makes a major contribution to modern Burma studies."

Andrew Selth, Griffith Asia Institute