Brunei
From the Age of Commerce to the 21st Century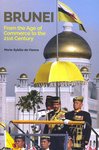 Marie-Sybille de Vienne
NUS Press-IRASEC, Singapour
mars 2015, 330 p.
ISBN : 978-9971-69-818-8

English text
Now an energy-rich sultanate, for centuries an important trading port in the South China Sea, Brunei has taken a different direction than its Persian Gulf peers. Immigration is restricted, and Brunei's hydrocarbon wealth is invested conservatively, mostly outside the country.
With some 393,000 inhabitants and today comprising 5,765 square kilometres in area (about the size of the American state of Delaware), Brunei first appears in the historical record at the end of the 10th century. After the Spanish attach of 1578, Brunei struggled to regain and expand its control on coastal West Borneo and to remain within the trading networks of the South China Sea. It later fell under British sway, and a residency was established in 1906, but it took the discovery of oil in Seria in 1929 before the colonial power began to establish the bases of a modern state.
Governed by an absolute monarchy, Bruneians today nonetheless enjoy a high level of social protection and rule of law. Ranking second (after Singapore) in Southeast Asia in terms of standards of living, the sultanate is implementing an Islamic penal code for the first time of its history. Focusing on Brunei's political economy, history and geography, this book aims to understand the forces behind Brunei's to-and-fro of tradition and modernisation.
---
CONTENTS
List of Graphs
List of Maps
List of Tables
List of Figures
Acknowledgements
Foreword
I. PROLOGUE : BRUNEI VERSUS BORNEO
1. An Apparently Unfavourable Geography
2. The Best Port in West Bornéo
3. A Relatively Strategie Site
II. FROM THALASSOCRACY TO RENTIER STATE
1. Introduction : Sources and Methodology
A. Premises and Emergence of the Bruneian Thalassocracy
1. First Settlements and End of the Ice Age (40,000 BCE-600 CE)
2. Brunei from Srivijaya to the Ming Dynasty (7th-15th centuries)
3. The Golden Age of Brunei (1500-78)
B. New Commercial Routes and Internai Rivalries (1600-1905)
1. The Dutch Card and Its Failure
2. The Double Gap in the 18th Century
3. Playing the British Card and Its Avatars (1803-1905)
C. From Residency to Independence (1906-84)
1. Establishment of "Modem" Government and Administration (1906-41)
2. The Japanese Interlude and the End of the Residency (1942-59)
3. From Internai Autonomy to Independence (1984)
III. INDEPENDENCE AND AFTER, 1984-2014
A. Political Independence
1. Well-tempered Modernisation, 1984-89
2. Full Steam Ahead ! (1989-99)
3. Running Before the Wind and Tacking (2000-14)
B. From Hydrocarbon Rent to Financial Rent
1. Absolute Dominance of Hydrocarbons
2. Structural Trade Surplus
3. Successful Régional Intégration
C. Evaluating the Bruneian Model
1. Internai and External Surpluses
2. From Surplus to Assets
3. An Unusual Model
IV. AD AT ISTIADAT AND SOCIETAL MANAGEMENT
1. Seeking the Brunei Paradigm
A. Orang Melayu, Orang Brunei ?
1. Démographie Expansion
2. Education as a Recent Phenomenon
3. Malays = Civil Servants
B. Adat Istiadat
1. Evolution of Royal Custom
2. Opening Up of the Hierarchy (1958-2014)
3. Tradition as an Instrument for Managing Society
C. Melayu Islam Beraja
1. The Making of History in the Service of Power
2. Power at the Service of Religion—And Vice-versa
3. State Ideology—But with Rule of Law
CONCLUSION : DURABLE CONSENSUS ?
APPENDICES
1. Weights, Measures and Currency
2. Lexicon
3. Thematic Bibliography
Index